This list of 14 Shopify spy tools would give you the turbo boost you need to win the competition.
In this pandemic era, setting up an online store is a must. Nowadays, this process may seem effortless, even for small business owners. Most of the technical issues are handled by eCommerce platforms like Shopify, and supporting apps like PageFly help solve page building problems.
However, opening an online store is nowhere means getting more sales. Your Shopify store needs to have more traffic to boost sales. This traffic then needs to convert into sales numbers. Figuring out how to do this can be very overwhelming and time-consuming. To be honest, there is no one-size-fits-all solution.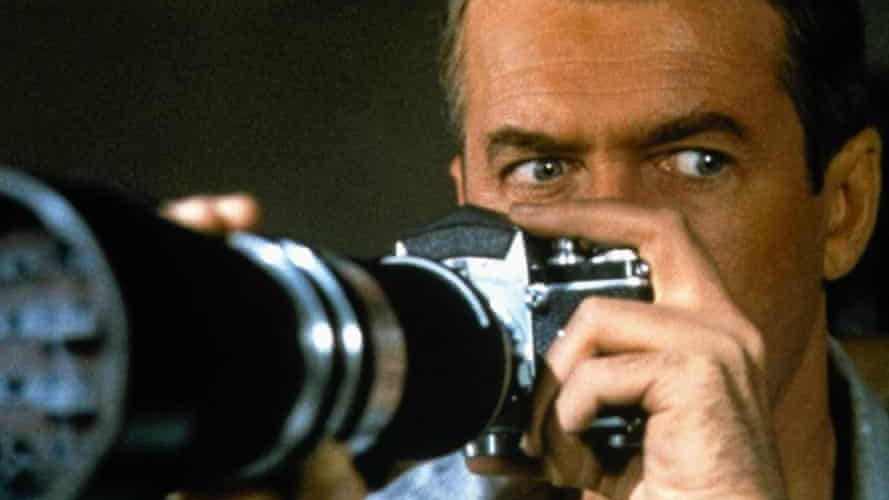 It is a good idea to look through your window's store | Photo: Alfred Hitchcock's Rear Window
That's when competitor analysis (or competitive intelligence or spying) comes into play.
Spying on competitors helps you understand more about their business strategies, top-selling products, successful ad campaigns, where they spend most of their marketing effort, etc. Spying gives you information, customer insight, and inspiration directly from competitors to run a successful Shopify store.
In this article we will explore 14 of these spy tools you can use- some are free or offer a trial period, while others require payment plans.Tools like Google Alerts and SpyFu allow insight into who is searching certain keywords; or SimilarWeb offers analytics about competitor content posted across social media channels, etc.
Most of these tools are simple to use.You only need to enter the store URL or the keywords into the search bar.
So, without further ado, let's get into your competitor's minds.
Outline
Use Shopify spy tools to inspect the big picture of your eCommerce competitors

Use Shopify spy tools to get detailed reports of your competitors

Understand The Data From Shopify Spy Tools To Optimize Your Website
Step 1: Use Shopify spy tools to inspect the big picture of your eCommerce competitors
Getting the overall view of other eCommerce websites is essential, especially at the initial research.
With this first step, I always count on Alexa and SimilarWeb. There are free and have Chrome Extensions to research on the go.
01. Koala Inspector
Price: FREE/$7.99/$19.99
Visit:https://koala-inspector.koala-apps.io/install
Koala is powerful, way too powerful for a Google Chrome add-on - they singlehandedly raise the bar for what a Google Chrome should be capable of.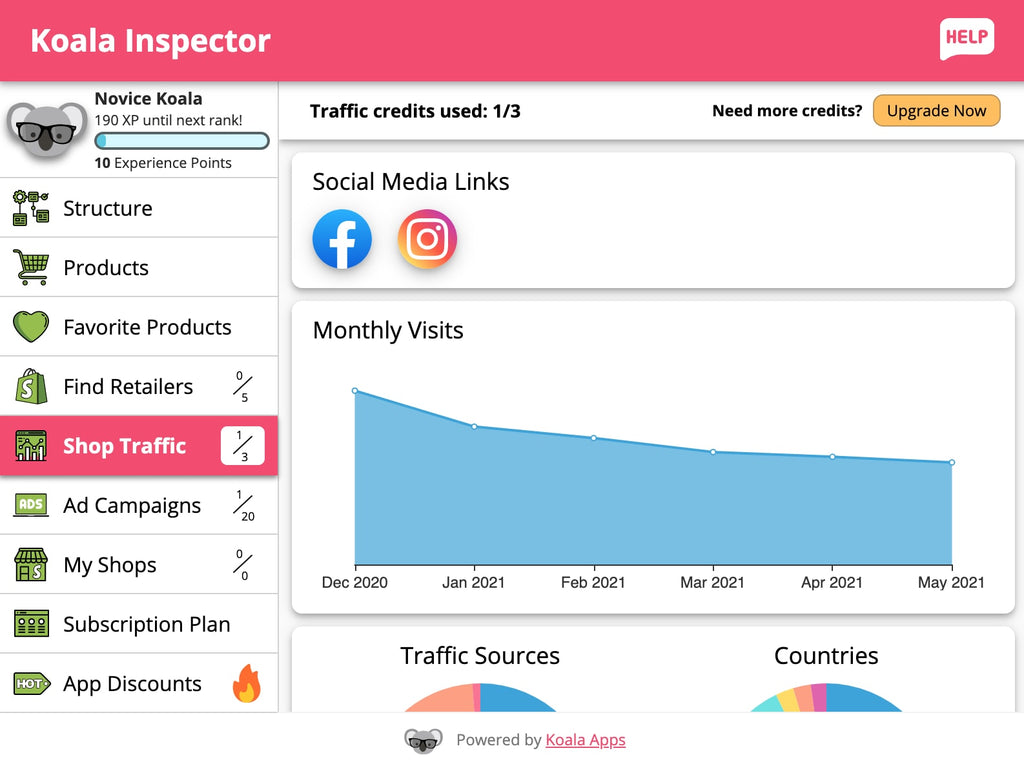 Simply add it to your browser for free, the go to any store, either your competitors or your inspiration stores, click the Koala icon on your browser and Koala Inspector whispers to you insightful intel including:
The apps your competitors are using
Their product statistics
Their traffic statistics
The retailers they're working with
Details about ads campaigns your competitors are running
Cons:The free plan gives you enough room to fiddle around and spy on several competitors. However, if you want to continuously keep a tab on your competitors or dig out more information about the retailers they are using, you'd need to upgrade to paid plans.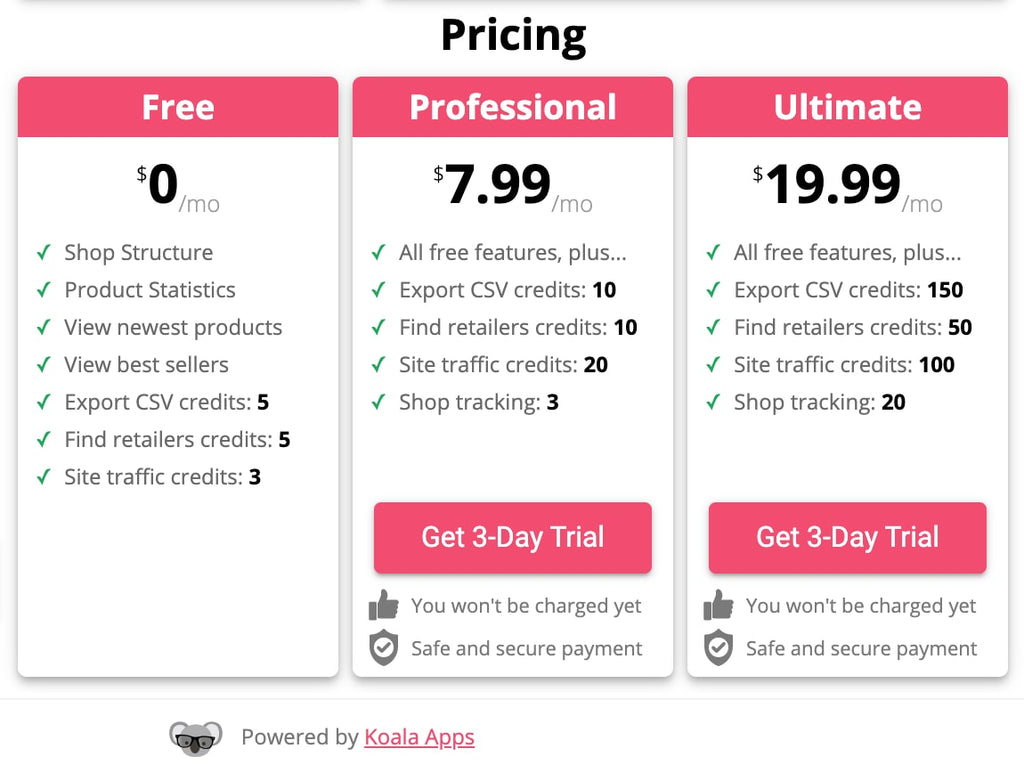 02. Alexa
Price (per month): FREE/$19.99/$79/$149/$299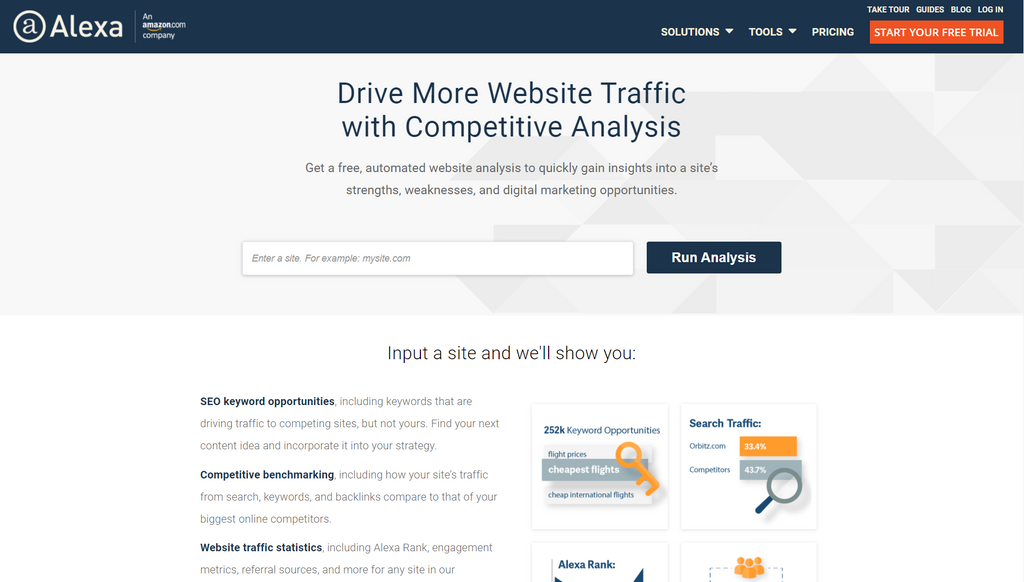 You may be familiar with Alexa, the virtual assistant on your smart home speakers, but she can do more than answer about the weather. Alexa also runs an analytics website!
Search for your website in the "Website Traffic Statistics" tools, and voila, you receive a report about your traffic performance. Alexa reveals as well as compares your Shopify store with competitors'.
Plus, there's a Chrome Extension that allows you to ranks other Shopify stores on the go.
Cons:The free plan provides enough data to define who your competitors are. However, this plan can only report the whole domain site like shopify.com. You can upgrade to the paid plans for more in-depth reports or keep scrolling down for other (free) tools.
(Video) 14 Year Old Girl Becomes Obsessed With A Man
Read more: TopProduct Description Generator Tools That You Should Know
03. SimilarWeb
Price: FREE/Flexible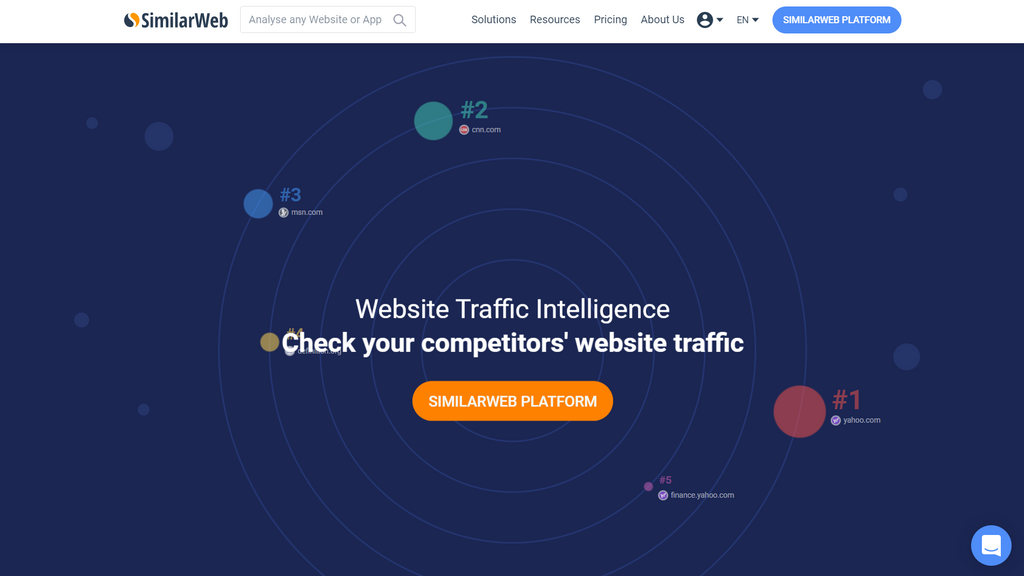 SimilarWeb is another excellent tool to understand more about your competitor's Shopify store. This tool provides a traffic overview of any website, then breaks it into smaller sections. In this way, SimilarWeb helps you understand where your competitor's store drives the most traction. Pay close attention to the traffic sources section.
Cons:The main drawback of this spy tool is, it might not work on low-traffic websites. That's why for new business owners, I usually recommend Alexa first.
Another drawback is SimilarWeb only provides paid plans for Enterprise corporates.
Step 2: Use Shopify spy tools to get the detailed report of your competitors
Ever wonder what your competitor's best-selling products are? What types of ads are your competitors using? Or what magical tools their Shopify stores are using to boost sales? With these 11 tools to spy, it's time to uncover this myth.
First, let's start with website investigations.
04. Xpareto
Price: FREE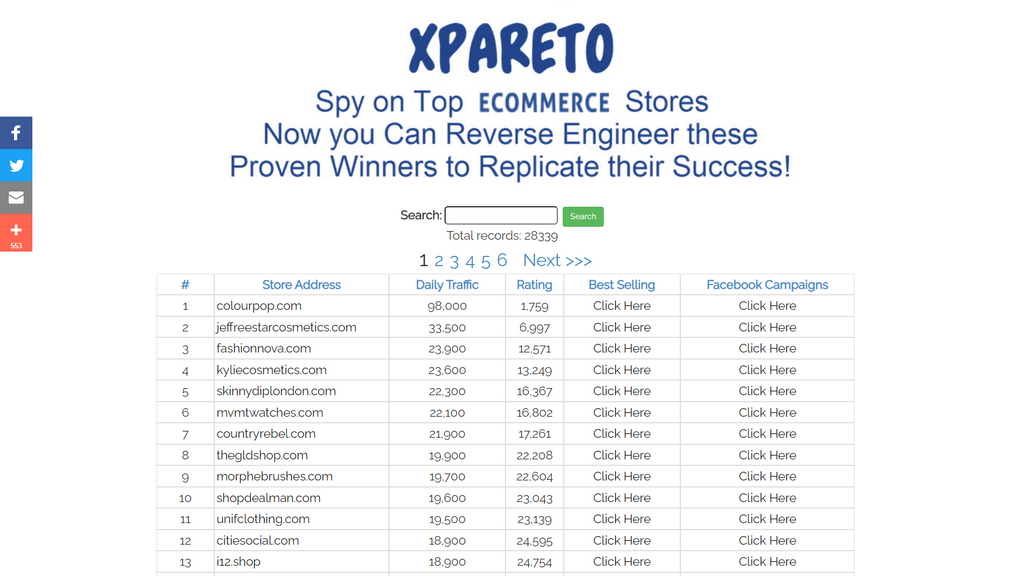 This Shopify spy tool is dead simple. Enter any Shopify store URL; Xpareto will show you their best-selling product. Xpareto will also show you daily traffic, rating, and their Facebook Campaigns.
Cons:However, Xpareto has some problems. For example,I hardly see the Facebook Campaigns options work properly. Also, some newly Shopify stores don't appear on its list.
Nevertheless, this tool is free and fast, so I don't have anything to complains about.
05. Commerce Inspector
Price (per month): FREE/$29/$59/$149/$299
https://www.commerceinspector.com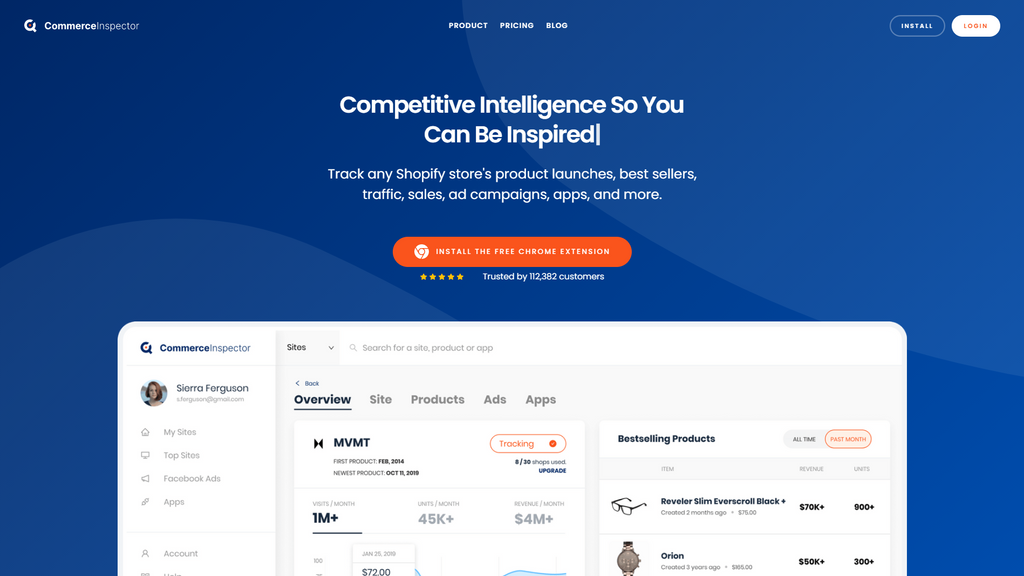 Commerce Inspector is Xpareto, on steroids.
It even has a Chrome extension for a seamless spying experience.
The free version of Commerce Inspector provides an in-depth look at your Shopify competitors like:
- Product tracking: Best selling products, order number, product variants, product launches.
- Shopify apps used by the site
- Traffic analysis: monitor traffic sources and visit/month data.
- Trends: Discover what are the top-selling products among the eCommerce platform.
(Video) BigSpy Review - How To Spy on Your Competitor's Ads | Facebook Ads Tutorial For Beginners , Ecom etc
Commerce Inspector's paid plans allow you to monitor your competitor stores, as well as some valuable features like shop-level revenue, Product-level revenue, ads reports...
Cons: Although bragging itself as an ultimate "eCommerce" intelligence solution, Commerce Inspector only works with Shopify stores.
Suggested Reading: How To Buy A Shopify Store On Exchange Marketplace?
06. BuiltWith
Price (per month): FREE/$295/$495/$995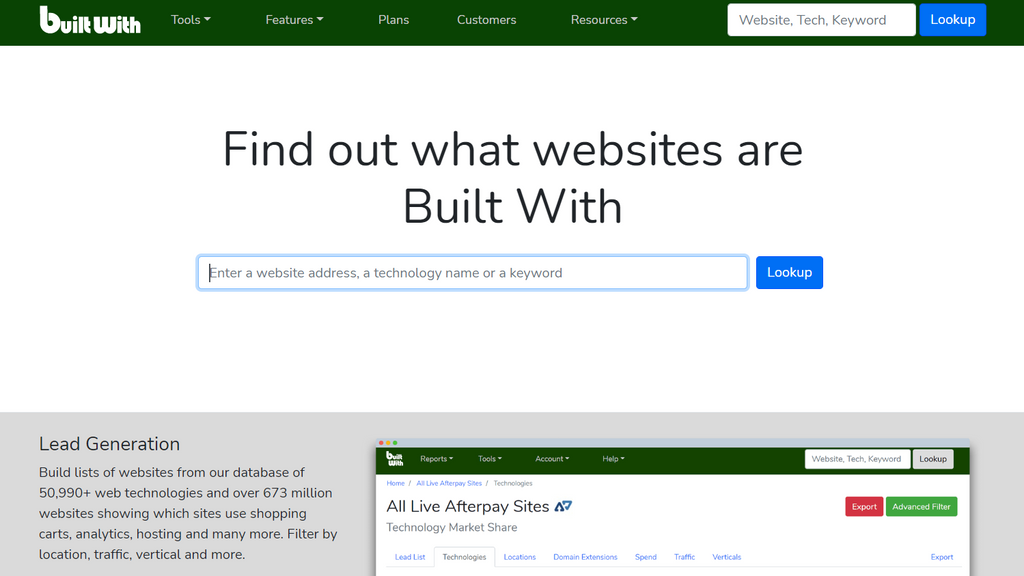 As the name, BuiltWith shows you what websites are... built with. This tool reveals every bit of technology your competitors are using. Your competitors might use different types of apps for many purposes to run an online store effectively. For example, some apps are added to a Shopify store to execute retargeting marketing, customer journey reports, and email campaigns.Also, you can take a look at our curative list of
Cons:The paid plans are expensive and only suitable for large corporates.
Next, we all know that SEO optimization is key in the digital landscape. Up to 33% of website visit comes from organic search. We wrote an ultimate guide about how to set up and optimize a Shopify store. This blog focuses on performing keywords research to rank higher than your competitors on search engine.
Learn more:
20+ Shopify SEO tools to boost your ranking

Why Shopify blog posts are one of the best ways to extract sales?
07. Feedly
Price (per month): FREE/$6/$8.25/$18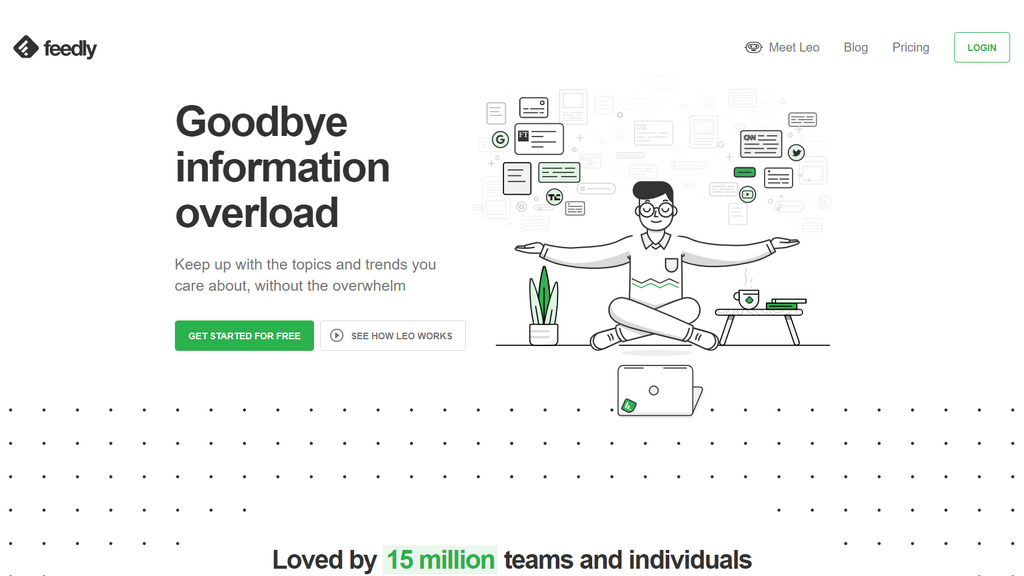 Feedly is actually a news aggregator application like Google News. But I find it very useful when it comes to content monitoring. Adding all your competitors' links in one "feed." Feedly will automatically sort all their posts in popularity and chronological order. This mechanism allows you to monitor your competitors' contents in real-time.
Cons:As I mentioned, Feedly is not a proper spy app. You will have to manually read all the topics your competitors write to understand their content strategies.
Add an ads tool descriptions
08. Google Keyword Planner
Price: FREE
https://ads.google.com/aw/keywordplanner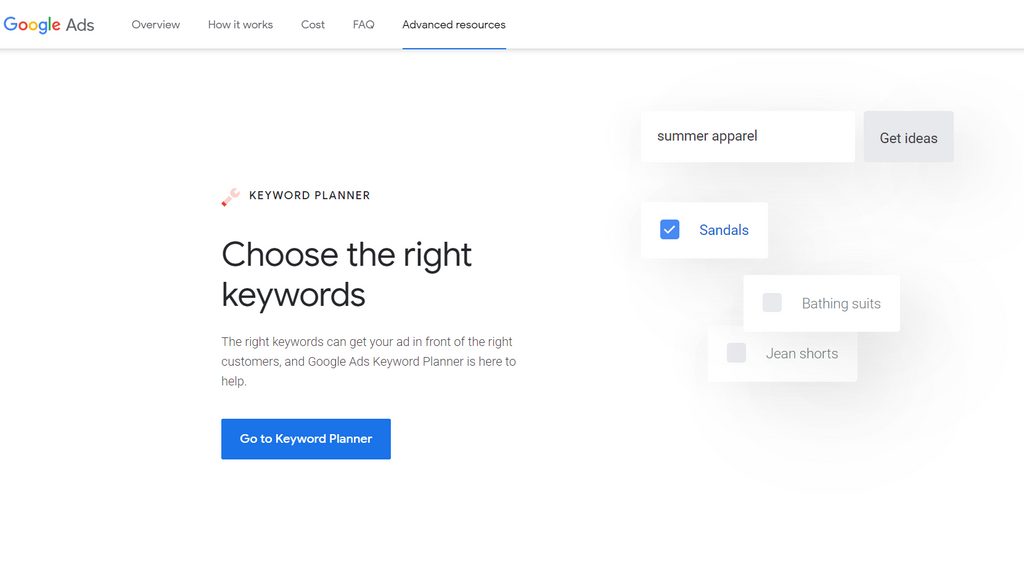 Google Keyword Planner is part of Google AdWords. Initially, this tool helps you research keywords for your search campaigns. Users can also use Keyword Planner to discover keywords that drive the most traction to your competitive website stores. And unlike other tools, Keyword Planner is free to use.
Cons:Since it costs nothing, Google Keyword Planner is nowhere as robust, feature-rich as third-parties solutions.
09. Ubersuggest
Price: FREE/$12/$20/$40
https://neilpatel.com/ubersuggest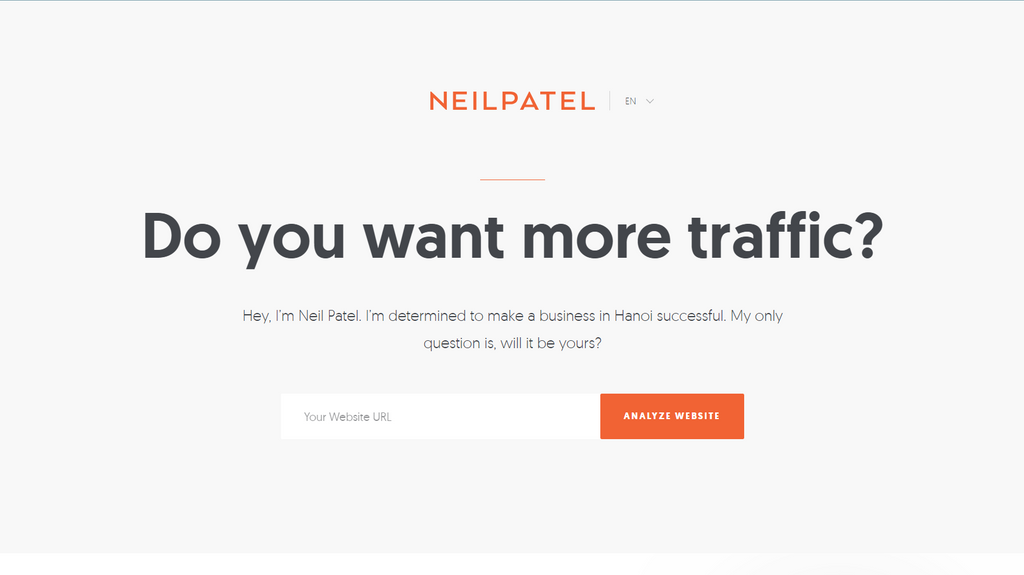 For small Shopify stores, Ubersuggest is the best bang for the buck. The cheapest plan only costs you $12 per month. Yet, this tool still provides some valuable data like more expensive competitors. These are some of my favorite features:
(Video) Facebook Ads & iOS14 issue FIXED!
Traffic Analyzer is useful when you want to know how Shopify stores are doing. Ubersuggest provides visits and backlinks data, as well as the number of Facebook and Pinterest shares.
Cons:This tool can be buggy sometimes.
10. Ahrefs
Price (per month): $99/$179/$399/$999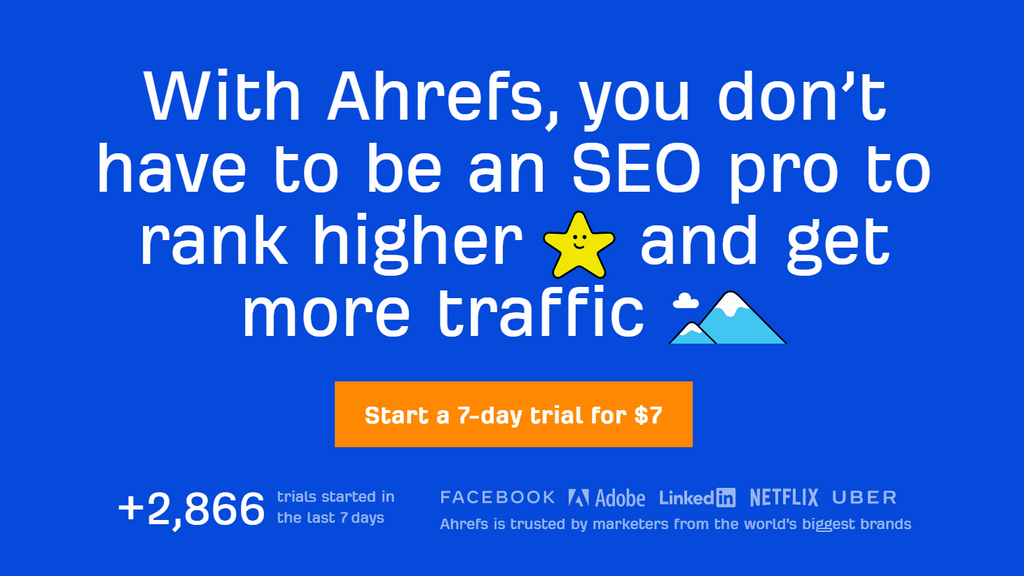 Ahrefs is the most popular, feature-rich tool on this list.
Ahrefs is always my go-to option when it comes to keyword explorer and competitor analysis. This tool can give you in-depth reports regarding your site performance and your competitors down to microscope level!! My favorite feature is the backlink analysis and top-pages information. It provides an answer for why and how your Shopify competitors perform better than you.
Content Gap is another hidden gem of Ahrefs. Enter the URL of your site and competitors'; it will show you what keyword you can rank higher than your opponents.
Cons: Ahrefs only weakness is properly their pricing plans. To access the aforementioned features, you need to pay at least $99.
11. SEMrush
Price (per month): $119.95/$229.95/$449.95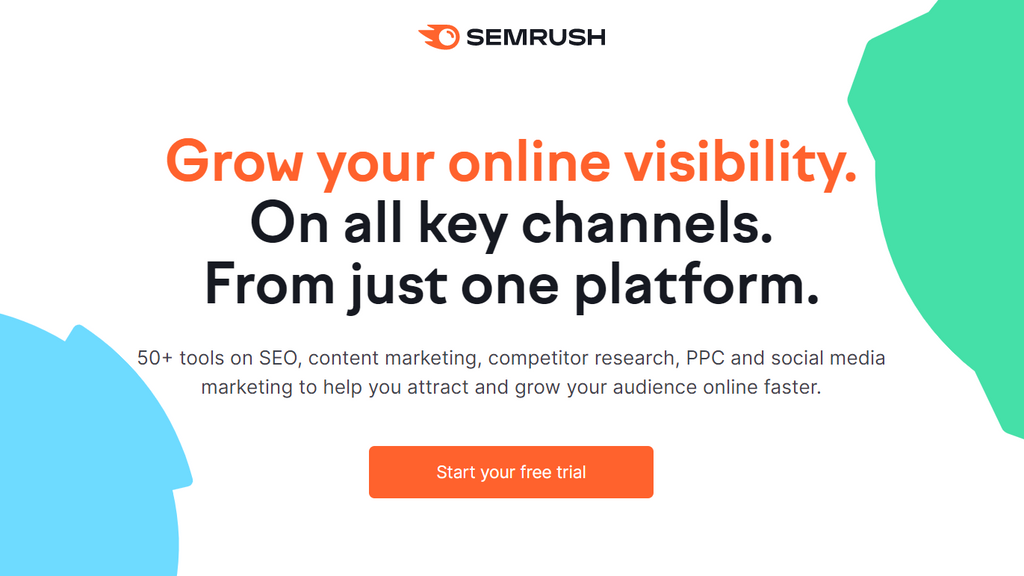 SEMrush is an excellent alternative for Ahrefs. For competitive intelligence research, I find that their Market Explorer feature is well executed. It all comes down to taste, and you can't go wrong with either of these two.
Cons: The Gatis plan is quite bare-bones. You'll have to pony up for the paid plan, which costs at least $119.95 per month.
12. Spyfu
Price (per month): $33/$58/$199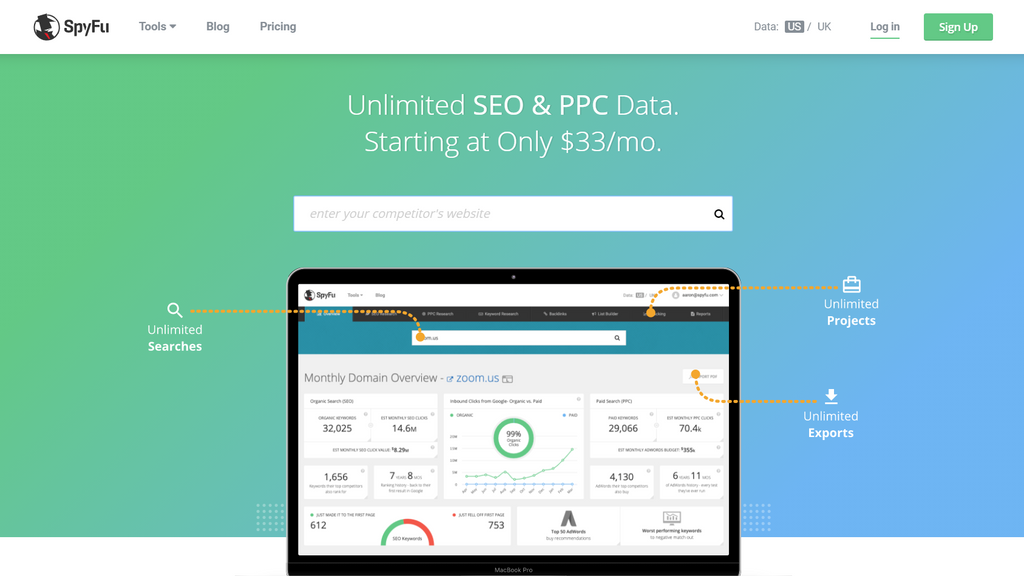 In 2020, 32% of website traffic came from Paid Per Click advertising. If your competitors spend most of their marketing effort on PPC campaigns, take a look at SpyFu. Their primary focus is in-depth PPC analysis and reports. Apart from some universal metrics, SpyFu's "Kombat" feature is convenient to monitor the PPC keywords your competitors are using.
Cons: As SpyFu provide many complex and details PPC report, it may be quite hard to use for basic Shopify owners purpose.
Finally, social media like Facebook, TikTok, Pinterest,... is where your audiences spend most of their time. Instead of fierce competition in the SEO field, many small business owners attract their customers through social media marketing strategies. That's why I dedicate the last 3 possitions on this list for best tools to spy on how your competitors do marketing on social platforms.
Learn more:
Best social media strategies (2021)

10-step to start selling on Pinterest

How to promote your Shopify Store on TikTok
13. Sprout Social
Price (per month): $99/$149/$249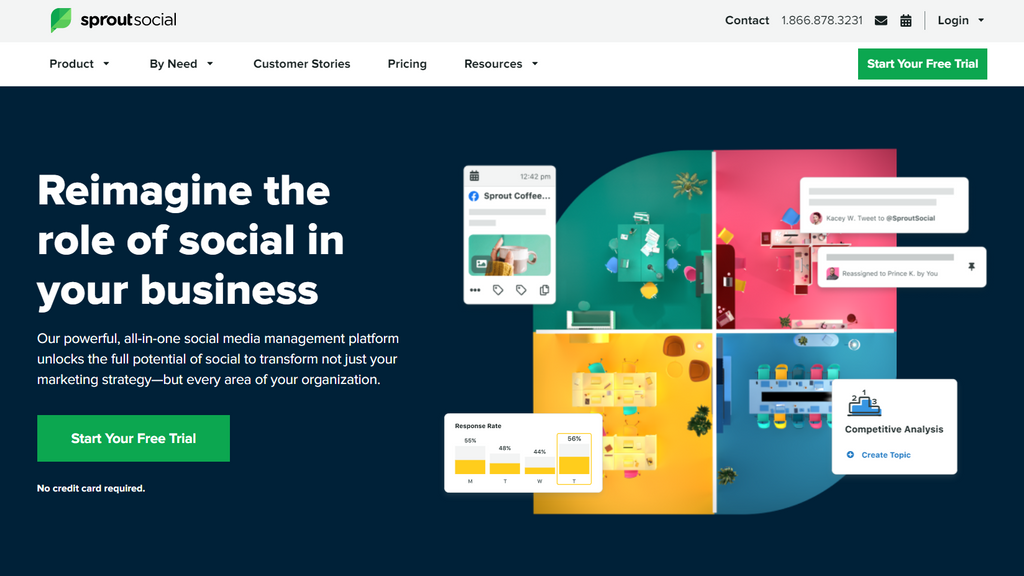 Sprout Social is an all-in-one social management tool. Apart from managing your Facebook page, this tool delivers all the aspects that an eCommerce business needs when it comes to competitive analytics. You can compare your profile to another rival. It also provides a Keyword Report and Trends Report to give your store an edge over the competition.
(Video) Facebook Ads & iOS 14 Update - 6 HACKS to Keep Your Ads Working PROFITABLY
Cons: Most of the competitive analysis is available on the Premium plan ($149).
14. Facebook Ads Library
Price: FREE
https://www.facebook.com/ads/library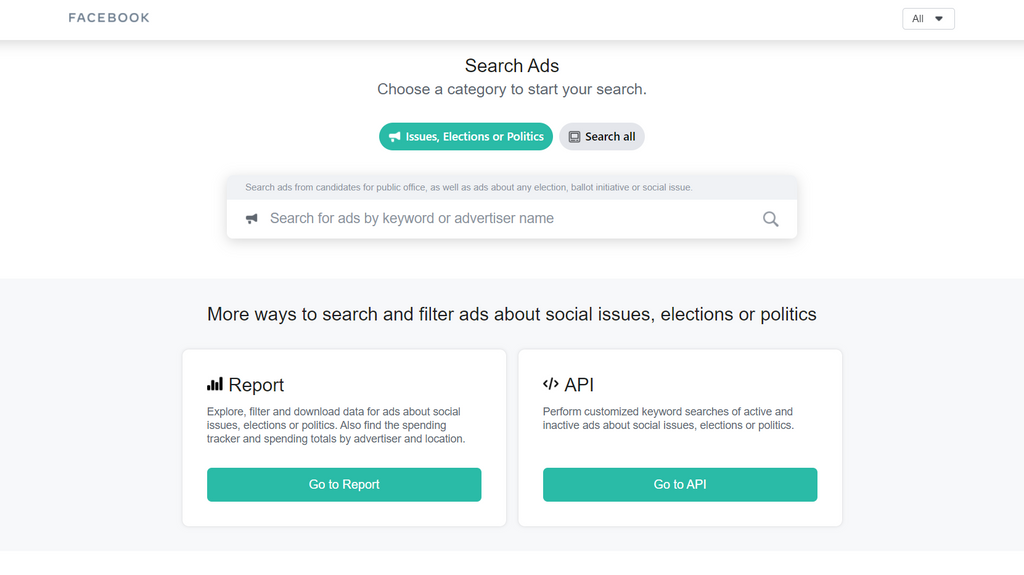 Want to know what Facebook ad your competitor is running. Facebook Ads Library helps you see all the ads your competitors are currently running on Facebook,Instagram, and Messenger.Running ads might reveal current best selling products of your competitors
Moreover, pay close attention to different variants of ads used by the top Shopify stores. You can learn a lot to improve your Facebook ads strategy.
Pro tip: Setting up Facebook Pixel to your Shopify store to run retargeting ads based on visitor activity. This can significantly improve the click-through rate.
Cons:Facebook Ads Library only shows you the content of the ad which the page is running. Neither the statistic number nor historical ad campaigns are shown. Therefore, it might be tricky to guest how successful a campaign is. To access more detailed reports, take a look at BigSpy.
15. BigSpy
Price (per month): FREE/$9/$99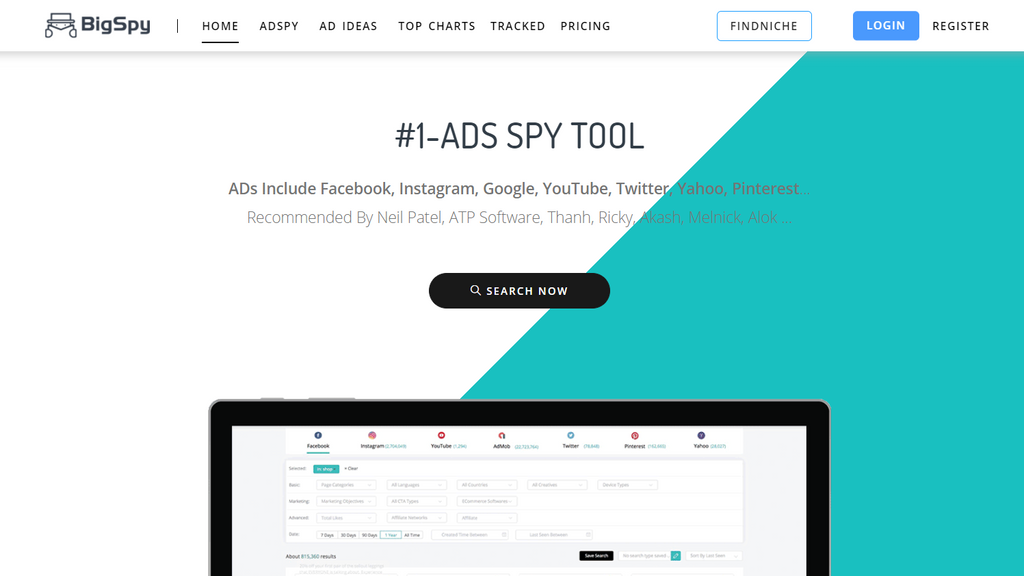 Nowadays, advertising on social media and mobile app is favored by many small, medium business owners. That's where BigSpy shines. BigSpy focuses on competitive ads analysis on social media platforms like Facebook ads, Pinterest, and mobile in-app ads.
The apps provide enough ad performance data to crack the code for a successful marketing campaign on social media.
Cons:BigSpy doesn't cover ads on Google Adsense and Adword.
Step 3: Understand The Data From Shopify Spy Tools To Optimize Your Shopify Store
Ok, that's a lot of tools to tinkle with. You don't, and shouldn't, have to use every tool in this list. Pick ones that fit your niche, your budget, and start sneaking around.
Nevertheless, don't forget about these tools' main purpose: to understand your competitors to improve your online store sales.
With all the knowledge you've acquired, map out the best strategy that other Shopify stores are executing. Implement it into your store. Keep experimenting with different methods until you see some noticeable results.
For example, you can use PageFly to add a countdown timer to a promotional page. Countdown timers create a sense of urgency, which pushes visitors into making faster (and more emotional-driven) buying decisions.
Suggested reading: Shopify One-Page Checkout Pros and Cons
Get More Sales And Save Time
With PageFly Free Page Builder
Trusted by 100,000+ Shopify Merchants
Fully Customizable with 50+ Elements. 90+ Free Templates
GET PAGEFLY FOR FREE
(Video) A teenage girl and her brother's friend find themselves alone at a cliff jumping spot. | Furlong
FAQs
Koala Inspector is a powerful tool for ecommerce merchants that allows you to inspect any Shopify store to discover the features of that store that are performing the best.
By using a trusted Shopify app detector or Shopify plugin detector, sellers can visit competitor stores and with the click of a button, easily find out what Shopify apps there are on that specific store. From there, you can go on the Shopify search app to find it and use it for your own store.
The Shopify spy extension is a perfect app for adding products directly to your store. Once on a Shopify store that you like, you can scrape 1000s of products at a time. The extension pulls all of the necessary information like the title, images, description, vendor, product type, variants, images, and much more.
Koala Inspector - Shopify & Dropship Spy Tool. Shopify Secrets Revealed - Get Koala Inspector Now for FREE! Want to gain a competitive edge over your eCommerce and Shopify dropshipping business competitors?
Ideal for lead generation, data enrichment, market research and alternative investment data. Active Stores 10,909,507. Ecommerce Platforms 188. Store Leads gives marketing agencies and app developers the information needed to succeed.
Shopify Plugins For Your Online Store. These Shopify Plugins allow you to expand your site with new features. They can increase your conversion rate, reduce abandoned baskets, or simply create a better customer experience.
Shopify, Inc. Class A is a company in the U.S. stock market and it is a holding in 64 U.S.-traded ETFs. SHOP has around 20.5M shares in the U.S. ETF market. The largest ETF holder of SHOP is the ARK Innovation ETF (ARKK), with approximately 9.13M shares.
Identify businesses that buy pay-per-click ads based on the keywords. Identify marketers advertising on similar industry platforms. Search for competitors on eCommerce stores like Amazon or eBay. Locate your competitors on social media platforms like Facebook or Twitter.
Wix just beats Shopify for design. Its simplicity in design makes it a great option if you're a small trader. Wix's templates are packaged to help you do the basics straight away, but if you want an online store that's more optimized for sales, Shopify's themes are for you.
Brands that innovate quickly and consistently improve the buying experience for consumers. This gives the brand a competitive edge and leaves the competition struggling to keep pace. Shopify has a much lower barrier to entry than other options, allowing faster innovation at a lower cost.
When comparing these two options, Shopify is the winner for sales-focused businesses that want an easy-to-use, full-featured and relatively automated e-commerce solution. WordPress takes far more getting used to, however, its the hands-down champion when it comes to versatility.
Related content
Shopify Spy Tools Shopify Spy Tools In this Shopify review, I look at one of the most popular online store builders available and how you can implement a genius hack to add in post-purchase upsells to drastically increase Average Order Value (The Key to Scaling Your Business). >>Increase Sales 15%+ with Post Purchase Upsells>>Discover the
Shopify Spy Tools In this Shopify review, I look at one of the most popular online store builders available and how you can implement a genius hack to add in post-purchase upsells to drastically increase Average Order Value (The Key to Scaling Your Business).. Shopify will charge a 2% transaction fee unless you use Shopify Payments.. Shopify.. One Click Upsell by Zipify makes post-purchase upsells a lot simpler for Shopify companies.. To start utilizing the OCU App by Zipify, first look for it on the Shopify app store and incorporate it into your Shopify store.. These upsell funnels are added on as concealed collections in Shopify.. For every funnel you produce, you can pick to upsell or downsell deal items by creating a new deal page or copying an existing offer page.. All in all, Shopify is an excellent option for anybody wanting to begin a brand new business, or existing small businesses wanting to take their item offering online– but there are some drawbacks of using Shopify to be familiar with too.. A more complete summary of Shopify pros and cons follows below, however as always we recommend that you try prior to you purchase– it's worth having a good play with the platform via the Shopify free trial.
Spy Tools Shopify Spy Tools Shopify In this Shopify review, I look at one of the most popular online store builders available and how you can implement a genius hack to add in post-purchase upsells to drastically increase Average Order Value (The Key to Scaling Your Business). >>Increase Sales 15%+ with Post Purchase Upsells>>Discover the
Spy Tools Shopify In this Shopify review, I look at one of the most popular online store builders available and how you can implement a genius hack to add in post-purchase upsells to drastically increase Average Order Value (The Key to Scaling Your Business).. Shopify is a web application that allows you to create your own online store.. Shopify.. Built-in Speed & Security for Hosting.. One of the obstacles of running an online store is that you have dual requirements from your hosting: you need it to be screaming fast and you require it to be incredibly protected if you are processing credit cards.. We have reviewed some of the best features of OCU by Zipify, its score as a Shopify app in addition to its rates.. To start utilizing the OCU App by Zipify, first look for it on the Shopify app store and incorporate it into your Shopify store.. Each funnel require an upsell tag which you need to develop.. Next, you can decide to change the concern of the deal page to change the order in which customers see offers within an upsell funnel.. When a cart include items which activate 2 or more funnels, funnel concern is used.
The best SEO tools: Free and paid
Here then are the best SEO tools currently available.. (Image credit: Ahrefs)Powerful SEO tool with good price points and great web index. Reasons to buy ++Excellent crawling features. Google's free keyword tool, part of Google Ads, could not be easier to use.. Anchor text relevance Relevance and quality of a linking page Linking domain quality IP address Link clicks and a linking website traffic Few links on the linking webpage. When you think of SEO, you generally don't think of ads, and with good reason.. SEO tools help users optimize their websites for better visibility and ranking on search engines.. These tools give users data about their website in terms of search engine ranking, backlinks, keywords, and much more.
Want to Know How to Spy on Competitors? 12 Tools & Hacks Want to know who your biggest rivals are and how to spy on competitors? ...
In this post, we give you the top 12 tools and hacks you can use to find out who your biggest competitors are and how you spy on them as a way to spot hidden, untapped markets and marketing tricks.. This handy report will show you how your competitors rank, the number of external linking domains and inbound links, their best-ranked keywords (in the top 50) and all their link data.. On the first day of the month, buy the cheapest product your Shopify competitor has to offer and hang on to your order number.. Simply search your competitor's brand name to see a list of sites where the brand is mentioned.. With Panjiva you can find global suppliers and/or manufacturers, get detailed reports on who your competitors are doing business with, and track your competitors' trade activity.. The idea is to find gaps in your market that you can fill with unique products and marketing strategies while keeping a close eye on your competitors.
Looking for the best e-commerce and dropshipping ad spy tools to learn more about your competitors' stores? This blog post highlights the top 10 tools we use for our e-commerce stores. They're quite useful for
You may also research other Shopify dropshipping stores, view their Facebook ads, and gain access to comprehensive dropshipping data.. Next, we have Ecomhunt, a well-known dropshipping product spy tool that adds new winning products every day.. Product description and images Profit margin and cost Targeting tools and ideas Analytics Engagement details from social media Links to ecommerce store Facebook ads data Product videos Reviews from buyers. The tool has a lot of features that might help you find the winning products trending on Facebook.. Pexda, as a product spy tool, delivers much-needed data such as order numbers, selling prices, targeted audiences, shipping fees, Facebook data, ad content, and more.. If you're looking to dropship on AliExpress, this is undoubtedly one of the best dropshipping product research tools available.. View Details That concludes our list of the top ten dropshipping product research tools for finding winning products for your store.. The top players in dropshipping uses a few spy tools to test out a huge range of products.
Get the best SEO apps for Shopify and collect the most clicks on various search engines. This in-depth review will help you choose!
Running a successful Shopify store has a lot to do with how well your store ranks on various search engines.. The Shopify SEO Manager app is a great Shopify tool to increase your store rankings and is arguably the best SEO app for Shopify due to its vast variety of exclusive features.. Image from: pluginuseful Structured Data (JSON-LD Schema Markup) Bulk Edit SEO Data, Product Pages Constantly Updated As Search Engines Change Help With Fixing SEO Issues SEO Meta Title and Meta Description Templating Fix Headings, Image ALT Tags, Filenames Google Search Console (Webmaster Tools) Integration Free Trial Multilingual SEO SEO For Special Pages (Collection, Search, Filters, Tags) Blog Optimizer Keyword Tools Fix 404 Broken Links. Image From: www.seo-product-optimizer Custom Link Previews Niche Keyword Suggestions JSON LD, Rich Snippets Bulk Edit Product Pages, Link Previews Free Trial Focus Keyword Insertion Continuously Added Features. Free Edition (Additional Charges Optional). After choosing, the app will take over the optimization process and get your shop on its way to ranking higher in search engine results.. Image from: shopify SEO Keyword Optimization Image Tags & Optimization Google Structured Data Meta Tags Bulk Edit Feature Social Meta 404 Fixes Page Speed Optimization Image Compression Support
We share a variety of image tools used by our partners that can help you whether you're creating visuals from scratch, or editing existing images.
, meaning it's crucial that developers make careful judgements when working with images for clients.. ImageOptim is a sophisticated tool that reduces image file sizes by removing unnecessary metadata like EXIF camera information and color profile, and compresses images without losing quality.. You can create copies of the files before dropping them into ImageOptim if you would like to keep the uncompressed version.. While marketed towards non-designers, Canva graphic design application is a powerful tool for creating images, especially considering it's free.. For designers who might be creating graphics on the fly, the iPad app would be especially useful, and the range of available stock images allows designers to quickly mock-up drafts for clients.. As an open-source and fully free application, GIMP is an all-round winner for designers looking to create images from scratch, edit existing images, compress photos, remove backgrounds, and much more.. Each platform has its own unique design requirements, which means you can't just use the same image everywhere.